Different Types of Fences
For more than 37 years, the Bay Area Fence Co. has been installing and maintaining fences for businesses and homeowners in the Greater Baytown area. Along with an A+ BBB rating, we are also at the top of the class for customer service.
Whether you have to install a chain link fence for security purposes, a metal fence that looks elegant, or a new galvanized fence for your rental property—we have the information you need to get started today. Learn about the different types of fences that we have in store for commercial and residential properties.
Chain Link Fence
Construction crews, retail shops, and individuals in need of privacy around the house can turn to chain link fence. The use of chain link metal fencing offers visibility and security. If you are interested in a more natural look, opt for a more natural looking green vinyl windscreen over the black chain link fence. By adding a windscreen, you also cut down on energy costs associated with fluctuating temperatures, which can be an eco-friendly option for green businesses.
Metal Fence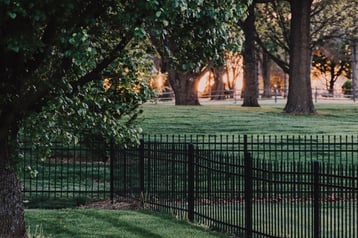 While the chain link fence is one of the most popular due to the quick installation and affordability, there are other kinds of metal fence work. These include a wrought iron fence that is made with elemental iron unlike cast iron, and an aluminum fence made from the element aluminum. Metal fence is commonplace around many architectural styles and types of terrain. Wrought iron gates are particularly popular among ranches and estates where both security and prestige are important.
Galvanized Fence
A galvanized steel fence is another type of metal fencing. Here you have a finished metal that is treated with a chemical containing zinc to prevent rust from developing, which is why it is called galvanized. Chain link fencing is the most popular kind of galvanized fence. This is used to help prevent rusting in the links due to rain, snow and other forms of precipitation. However, here at the Bay Area Fence Co. we also offer galvanized fencing for other types of metal fence.
Wood Fence
If you want a more naturally appearing fence that has softer lines for architectural interest, go with a wood fence. The widespread color palette based on wood grains alone is enough to spark any exterior designer's intrigue. In addition, wood fence can easily be painted or adorned to match a residential or commercial building style. The use of a wrought iron gate surrounded by a red cedar wood fence, for example, would be both artistically pleasing, and a financially sound property investment based on aesthetic and design.
Find a Fence Solution in Baytown, TX
At the Bay Area Fence Co., we offer free estimates on commercial and residential fence services. Whether you are in the market for a new wrought iron fence or need repairs on a galvanized gate frame, let us assist you. Contact Bay Area Fence Co. at 281-573-4507 to request a complimentary estimate for your security, privacy or property upgrade. We are located in Baytown, Texas and serve the surrounding areas.