Best Wooden Fences for Texas' Extreme Weather
Living in Texas means sudden floods, blizzards, lightning storms, and hail damage--sometimes all at the same time. In order for you to prepare for this as a homeowner or commercial property manager, start with the right wooden fencing for severe weather.
Here at Bay Area Fence Co. in Baytown, TX, you can have everything from a free estimate to custom wooden fences with gates installed on your property. Find out more about the right wooden fences for Texas weather.
Types of Wood to Consider
Heat, insects, and damp conditions all cause havoc on wooden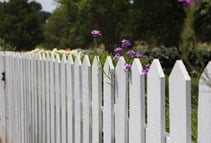 fences in Texas. Starting with the right type of hardwood or softwood for your fencing will make or break your fencing budget. Go with an expensive top of the line wood and you will easily eat away at how much fencing you can maintain.
On the other hand, if you opt for the most affordable fencing just to save a penny, you can lose all of your return on your investment after just one summer's damage. Here are the most common softwood species that residential and commercial property owners use in Texas:
Cypress--is not highly available and lacks durability in TX weather, but is easy to paint or stain, and is also very affordable

Southern Yellow Pine--is highly available, resists rot and mildew, and is more affordable

Spruce--is highly available, withstands severe weather well, has a natural gray hue that is attractive, and is also very affordable

Western Red Cedar--highly available, handles extreme temperatures well, is colorful by nature, and is also expensive
Each of these types of trees can easily be honed into a well crafted fencing solution. You can also have your own matching gate custom made to fit the fencing style. Fences offer superior protection against intruders on two legs and four after a storm. You also offer security and safety against burglars and unwanted vehicles on your property. Consider installing new fencing to help manage your property this year as part of a renovation project.
Choosing the Best Wooden Fencing
When it comes to the best wooden fences in Texas, there are several ways to stylize your fencing. You can choose cedar or treated pine fencing. Decide if you want to go with pressed spear points or straight top for the ornamental features. End with your very own custom gate made from a matching design.
Need a New Wooden Fence in Texas
In order to get your fencing back up again after damage due to severe weather, you want to act fast. Your insurance may likely require you to provide any estimates for storm repairs within just a few days for applicable financial coverage. Therefore, you want to get your free estimate from Bay Area Fence Co. as soon as possible. You stand to maximize your value on your investment by getting a professional estimate completed fast on fencing.
Contact us at 281-573-4507 for a free estimate on your wooden fence project after a Texas weather disaster. We provide residential and commercial estimates along with nearly 40 years of experience. Find out how well we treat Baytown customers and become one yourself!